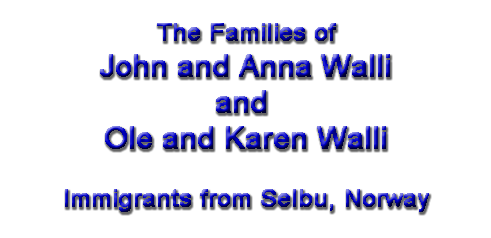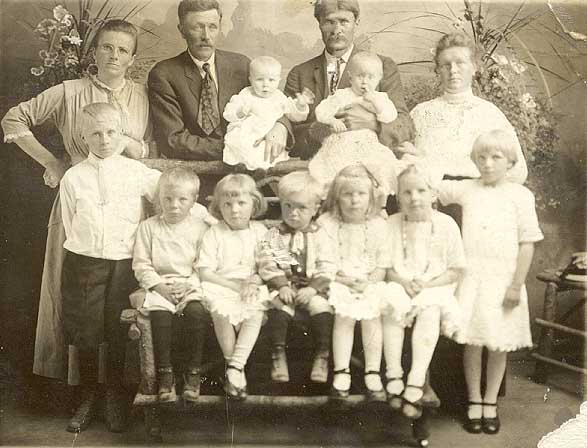 The Walli families in 1916:
Left to right:
Standing in back: Anna, John (holding Justin), Ole (holding Josephine), Karen
Standing in front: John B., Magna
Seated: John, Astrid, Joris, Ida, Amanda
---
Ole and John Walli were both born in Selbu, Norway, where their family name was spelled "Valli," which designates the farm on which their family lived. Ole was born January 11, 1882, John was born May 27, 1885. In Norway, John had been known as "Johan," but he changed the spelling upon arrival in the United States. Their older brother John remained on the Valli farm in Norway, as farms traditionally passed to a family's oldest son. Ole was the first to come to the United States. He arrived in New York aboard the Teutonic, on June 15, 1901, together with two other men from Selbu: Daniel Stokke and Ole Krogstad. The three were bound for Minnesota: Stokke and Walli indicated that they were going to Hayfield, and Krogstad's destination was Carlisle. (As with many immigrants, the ship's manifest spells their names slightly differently than their traditional spellings in Norway. Written in another's hand--perhaps that of the purser or captain--Ole's name appears as Walli, and Stokke's appears as Stocke. In America and Canada, Ole continued to use the new spelling, while Stokke reverted to the traditional version. For information about accessing the ship manifests for the Walli family immigrants, click here.)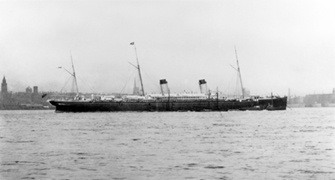 S/S Teutonic, White Star-Dominion Line

By 1904, the three men had found their way to a new Norwegian settlement near LaCrosse, Washington, which was concentrated around Selbu Lutheran Church, named after the immigrants' home in Norway. (Ole's aunt and uncle, Beret and Peder Wigen, had settled in the area in 1901.) Eventually all three would move to Alberta, Canada.

John and Anna Valli were married in Selbu in 1906. They emigrated the next year, arriving in New York on April 5, 1907, aboard the Baltic. On the ship's manifest, John's name is listed as "Johan," but in America, he went by the shorter name, John. He also adopted the same spelling of his family name that his brother used: Walli. The Baltic's manifest lists his occupation as "Farmer;" Anna's is "Wife."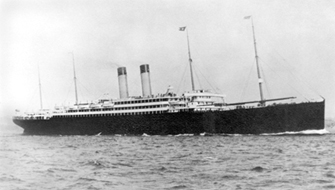 S/S Baltic, White Star-Dominion Line

Together with a group of other immigrants from Selbu and Rissa (Anna's home area), John and Anna immediately traveled to La Crosse, Washington, arriving in the area on April 14, 1907. That group also included Karen Nervig, whose occupation was listed on the ship's manifest as "Servant." (The Nervig family's name is sometimes spelled Nervig, and at others, Nervik. That includes notations on photographs, ship manifests, and grave markers.) Karen married Ole Walli in 1907. Although both brothers adopted the new spelling of their family name, Walli, it is not clear when that became "official." The church records at Selbu Lutheran Church indicate a change between 1913 and 1915. Baptism records in 1913 for children from both families (Joris Oscar and Olga Kristine) list the parents' names as "Valli", but in 1915 and 1916 (in the entries for Olga Josephine and Clara Ruby, and Justin Alfred, respectively), the parents' names were spelled "Walli." Like countless other Norwegian immigrants, both familes followed the pattern of "grasshoppers," moving from one settlement to another. In 1916, Ole moved with his family to Canada, settling near Provost, Alberta. (The picture at the top of this page was apparently taken shortly before they moved. Magna recalled that it was taken at the old Natatorium Park in Spokane.) The following year, John and his family followed others from the Selbu congregation, and moved to the area near Limon, Colorado. Karen died in 1920; Ole remained in Canada until his death in 1968. During the "Dust Bowl," John and Anna returned to the La Crosse, Washington area, where they remained for the rest of their lives; John died in 1959, and Anna continued to live in their home in La Crosse until her death in 1971. (She married Ole Slind, another immigrant from Selbu, in 1961; after her death, Ole moved to a senior care center in Colfax, WA, where he died in 1975.)
---
The photos below are linked to pages which have
additional information about the two families
(particularly the American relatives) Click on the "thumbnail" image for a larger view
and explanatory text.
The Norwegian-American
Wallis

1930s

1940s

1950s

1971
2007
---
This site created and maintained by
Marv Slind. If you have any questions or
comments, please contact him at
slind@norse.org
---